Welcome to Colne Valley Rubber
Our team have an extensive knowledge of the rubber industry and are here to provide high quality bespoke solutions to any of your rubber processing requirements.
We specialise in all forms of rubber processing, our calendering team in particular are exceptional, please browse our calendering section for more technical information.
Established in 1981, Colne Valley Polymers have passed down their years of knowledge, experience and expertise, which still forms the backbone of our business to this day.
Colne Valley Rubber was formed in 2007 and have successfully developed a strategy which provides our customers with a highly sought after service. We pride ourselves on being unique within the market place.
Our ability to turn around orders quickly and efficiently allows you the customer to be flexible with your clients.
Developing, Mixing and Extrusions complement our core business of calendering. We have built up some excellent relationships within the rubber industry and are more than happy to liaise with these companies in order to assist you with almost any rubber processing need.
Colne Valley Rubber is approved to ISO 9001:2008.
Contact Us
Bankgate Mills
Bankgate
Slaithwaite
Huddersfield
HD7 5DL

Phone No. (01484) 845239
Fax No. (01484) 842900

Email Us:
admin@colnevalleyrubber.co.uk
Testimonials
Find out what our customers and suppliers have had to say about Colne Valley Rubber. View
Made in England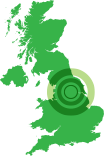 ALL Colne Valley products are manufactured at our West Yorkshire premises by our skilled staff.
Huddersfield University

Associated with the University of Huddersfield.
University of the Year 2014.